Shake-Away 60 pound Commercial Blend: After years of field testing and formula optimization, Shake-Away now offers the best agricultural sized deer repellent market available. Taking advantage of a animals instinctof fear within the predator – prey relationship, we incorporate both coyote and wolf urine in a time-release granule that does not need to be applied directly to foliage or the valuable fruits and vegetables which farmers are trying to protect, but to the ground adjacent to these plants. The user simply shakes (applies) a sparse line of granules around the perimeter of the area which they are trying to protect once a week for the window of time they require protection. It is advantageous to be able to forecast the time in which damage will occur from past year's experience and begin application 2 weeks prior to that period. Approximately 3 pounds of product is required to treat the perimeter of 1 Acre (each week). Empty 3 pound containers are provided to enable the user to apply the product easily.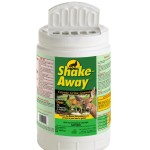 Shake-Away Coyote Urine Granules: Shake-Away offers both 3 pound and 12 pound containers of our EPA registered Coyote Urine Granules. We are the only source of an EPA approved predator urine product based on our unique pasteurization process which ensures our customers there is no transmission of canine-borne diseases. These smaller sized products are ideal for the large gardener or for a farmer dealing with a notoriously bad "edge" or "corner" of a vineyard or orchard. Simply apply granules to the section that damage is being observed once a week. By the the 3rd week, dramatic improvements should be observed. Unlike other repellent products, these granules are weather resistant and stay where you put them through a rain event. Precipitation actually extends the lifetime of the product as the absorbent granules are re-hydrated. Expect to get 1000 linear ft. of coverage from every 3 pounds of product.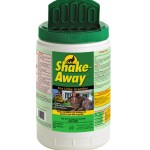 Shake-Away Fox Urine Granules: An ideal, all natural repellent for woodchuck and rabbit situations. Shake-Away traditionally best selling product is designed to alter the patterns of these common pests so you can re-direct there feeding activity from your valuable plants to other areas of the property or beyond that are of less or no concern. Shake-Away products take advantage of the animals built in instincts of fear and survival as we use odors derived from their primary predator. Our products create the illusion thatpredator is re-visiting the area repeatedly…These situations are generally smaller than deer situations and we recommend applying granules twice a week for the first two weeks, then once a week beyond that for maintenance. Customers can expect dramatic improvements by some point in the second week of treatment.
Shake-Away Rodent Repellent Granules: An ideal all-natural repellent product to decrease the activity of mice, rats, voles, and shrews. Shake-Away takes all natural ingredients that can be used inside or out to decrease or totally eliminate the activity of these common pests. Simply apply our easy-to-use granules twice per week for two weeks, then once a week beyond that for maintenance.
Shake-Away Plot Protect Kits: The new products from Shake-Away were designed for the food plot enthusiast who can be either a pro-active deer hunter or someone looking to increase wildlife populations on the property. The typical problem these customers face is going to a large amount of cost and labor to plant these food sources only to have deer and other plant eating animals browse them to the ground before the plants are mature enough to handle this pressure. What these Plot Protect kits provide is a system that keeps animal pressure off of a specific area for 6 weeks. This program is ideally started when the plot are planted, but can be initiated at any time. These kits contain both our industry leading Coyote Urine Granules as well as our slow-release Deer Packs to provide a dual action repellent system. Kits come in both a ¼ and ½ acre size.